---
"We're a company that likes doing things that have never been done before. For that you need partners you can trust to go above and beyond, and Citiprint are exactly that. They push the boundaries of what can be done with signage, so they were the first people I spoke to when we needed to get a team suspended from a wind turbine 50 meters above the ground."
Peter Miller, co-founder at Octopus Energy
---
Few phonecalls in history, infact no phonecall ever has begun with the words 'can you brand a wind turbine?' – but when you're Octopus Energy's go to for pulling off groundbreaking ideas, we pause our office Spotify playlist and tune in to the unusual enquiry instead. After fairly quickly realising this wasn't a prank or some scale model turbine in question, it became apparent we had less than one week to get this project underway and completed.
We're no stranger to unusual and impressive projects but this has never been done in the UK before. Some turbine manufacturers brand the Nacelle (part at the top containing the motor) at the point of manufacture but never has a firm taken on the daunting task of branding an already erected turbine.
As part of their aptly named Fan Club initiative to provide discounted energy to communities in Market Weighton and Caerphilly, Octopus has recently acquired two 500kw wind turbines, capable of powering 800 homes each year. But, if you live in these areas, walk your dog locally or just drive past, you'd never know who owned these fans, until now…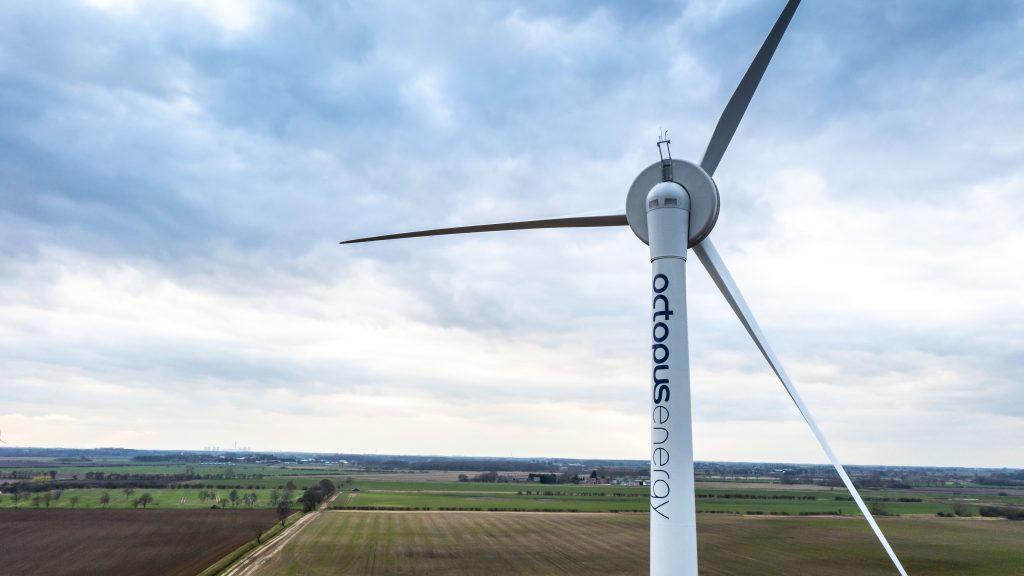 With the green light given just 72 hours before from the deadline, our focus was instantly turned to the logistics involved in the project, which meant working closely with not just Octopus, but also our own installers, third party specialist installers and preferred materials supplier Metamark. Their huge range of M7 sign vinyl meant we could send a digital swatch to Octopus who instantly found the right colour match. From the point of ordering the required material, we had a very tight turnaround to produce the vinyl and get it to site in Hull. This was light work with our 1600mm Summa S160D plotter, making production a breeze (see what we did there). In no time we had 80m of cut and printed vinyl produced and labelled up for installation.
As a SafeContractor Accredited Business, and with a large percentage of our work being for high profile clients, we have a huge interest in site health & safety and proper planning for all jobs. The nature of our 24/7 service means things like a Risk Assessment being typed up on the M62 at 10pm on a Sunday night isn't too alien to us. It was completed and signed off in time for our 6am team meeting on site, aided by the beautiful invention of Costa coffee.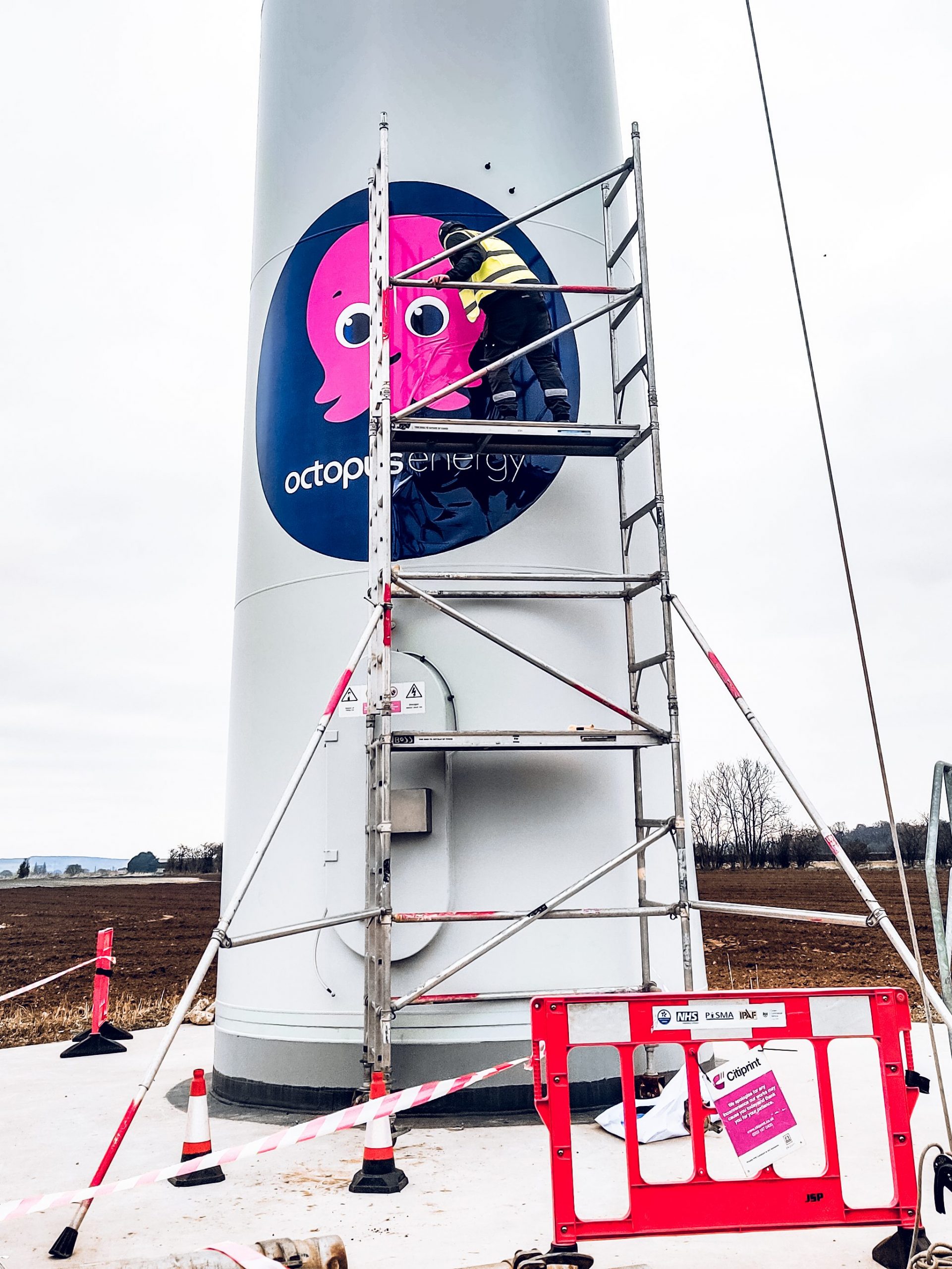 The first task was branding the base of the turbine using a portable scaffold tower and our PASMA trained installers; staring a 3m wide Octopus in the face at 7 in the morning was certainly new to us all but we soon had a strict schedule to work on to ensure the next stage of the branding could be carried out. Shame we didn't have eight tentacles to hold the giant vinyl in place!
Anyone could look at this job and suggest a cherry picker, after all there are plenty of huge machines available in the UK to hire – but it's never that simple. Due to the location and terrain, it was apparent we'd also need Trakway to support the vehicle and we'd be extremely limited with windspeed limits, the turbine itself swaying slightly causing possible damage and the fact that it doesn't really look that impressive now does it.
So, if we can't send a team up in the sky, let's find a team who will come down from the sky – in comes Media Abseiling, our go to partners and long term Instagram lovers. Their specialism in working from any height is not only ridiculously scary quite frankly but at the same time exactly what we needed – with an experienced team of IRATA abseilers ready to take on the mammoth task.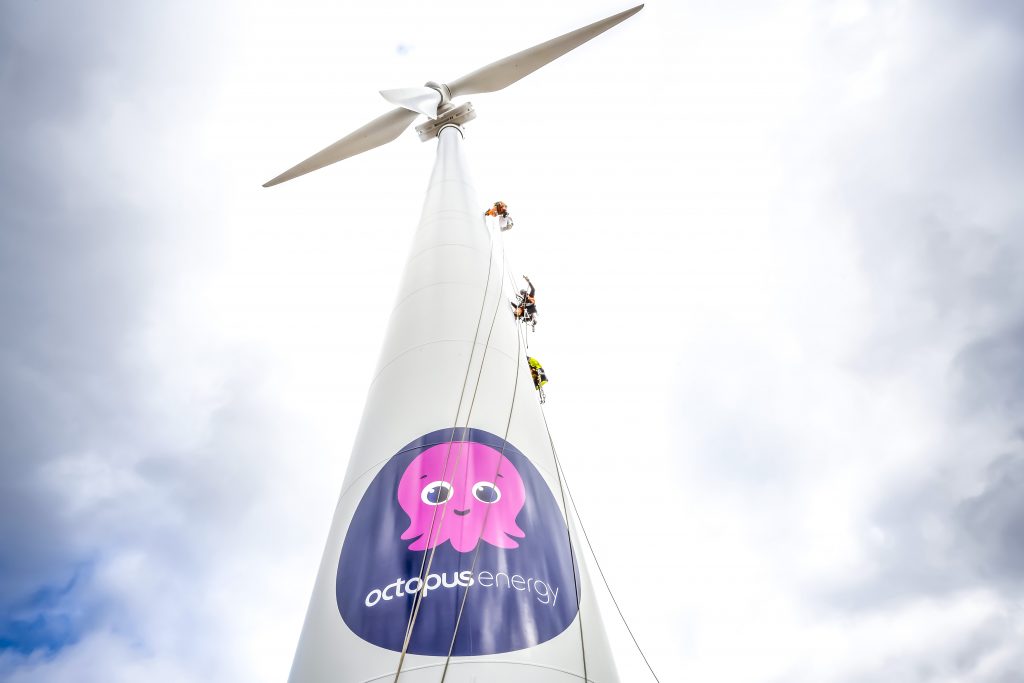 It would only be worth us taking this project on if we could be certain to meet our client's brand guidelines and expectations which was where working with Metamark, a UK manufacturer of sign materials came into play. In fleeting conversation with our sales rep Paul, we mentioned the nature of the project, not realising the turbine isn't in a factory on ground level but quite the opposite. This particular turbine, manufactured by EWT, stands 50m off the ground with the blades stretching to a further 25m. Needless to say, the setting for this install was beautiful on all fronts, set in Market Weighton near York. Although, the less said about the lack of warmth and phone signal the better!
Being confident that the material chosen would be the best choice for longevity, ease of install and environmental properties, we sent three fitters up to begin the branding process, led by lead abseiler Kyle. Using anchor points on the roof of the turbine, Kyle and his brave team descended, cleaning the turbine before laying the vinyl on, hoisted up in bags from ground level. It's beyond us how a man who has hung from a rope for five hours can touch the ground, hands freezing to the touch and legs failing to hold themselves and hear 'that material was so easy to work with' before any attempt to regain a sense of normality. The skills these boys have is enviable.
Despite strong winds to contend with and the orientation of the logo proving tricky at times to read from up close, the huge team effort between 15 of us on site made for an enjoyable installation for all with the results speaking incredible volumes. Each side is branded with a 2 x 15m logo – more than visible for some way.
Our mentality as a business has always been to ensure we have everything we can ever need for every possible eventuality – and it proved to come into its own on this project, as it has many others since we started in 2016. Having the right kit, vehicles, team and contacts allowed this job to go without a hitch with the satisfaction and feedback from all involved totally empowering.The impact from this job is certainly unlike anything we've ever achieved before and we're already scratching our heads to see how we can top it. This is the first of its kind in the UK and possibly worldwide, but it won't be the last for as long as we're printing and the wind is blowing. As Octopus continues to acquire fans, we will continue to step up to the challenge and meet their signage project requirements.
Photography Credit: Octopus Energy

Job Completed on 23rd March 2021 in Market Weighton, Yorkshire.
Using Metamark MD5 Printable Digital Vinyl & M7 Sign Vinyl
https://www.metamark.co.uk/blog/wind_turbine_m7-series.html
For all PR enquiries and for further images, please email jacob@citiprint.co.uk